Education and communication
The Sorbian Museum has entertaining exhibits and exciting projects for visitors of all ages.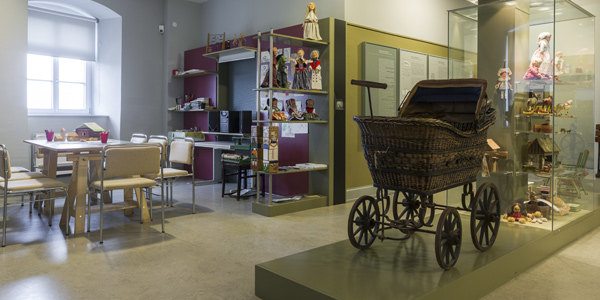 General programmes for children
Educational programmes for children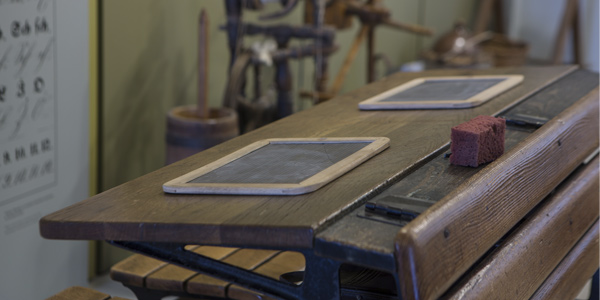 For our children there are special tours of the permanent exhibition but also thematic tours – depending on prior agreement. These are also offered in Sorbian or in two languages.
The children's museum serves primarily as a learning environment for educational events.
This year-round programme gives you an idea of how children used to live. Not only objects of everyday use such as wooden shoes, wool socks and yokes but also materials such as flax and linen help children "feel" the old days. In addition, historical professions and children from different epochs are presented in quiz stories.
Suitable for: Pre-school, primary school and special school children.  
"ABC – The cat in the snow"   – Here you can find out how children used to learn and also get to know the Sorbian language. The exhibits in the children's museum show how school was like before World War II. Here everyone can get active and use pencils and pens to learn ancient writing – and finally, even write a greeting card to take home (material cost 1 €).
Suitable for: Primary school, secondary school / grammar school and special school children.
Museum educational programmes for students
"In the footsteps of Sorbian legends and fairy tales"
"What can pictures tell us"
Wintertime in the past
How did children use to go sledding? How did the people slide across the ice? What did many children love most about the winter season?
These and other questions are explained in detail during our offer for the autumn and winter time – also with the help of historic sledges and related articles.
Suitable for: Pre-school and primary school children.  
This programme first passes through the permanent exhibition, where students can discover hidden legendary figures. The individual legendary or fairy-tale figures including their relevant background and history are introduced. Then you can draw your favourite figure or paint (from an original) on the back of plastic in the style of verre églomisé. And if you like, you can even dress up during the tour with one or other piece from the collection of props.
Suitable for: Primary school, special school and pre-school children.
This offer is especially interesting in combination with art lessons for younger school children.
In the fine art department, every child can choose a painting, describe it and then make up a short story about its creation.
Suitable for: Primary School, special school and secondary school (5th form) children.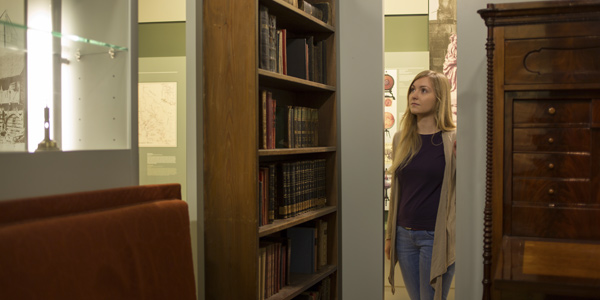 Afternoon activities for adults
Coffee at three o'clock – Ones in each quarter on a wednesday , the Sorbian Museum invites all those who are interested to coffee at three o'clock. After a short entertaining lecture on a typical seasonal theme or an exceptional object of the collection, you can exchange thoughts and memories while enjoying a cup of coffee and cake. This is a good opportunity for all to learn something new about the museum's work and visit the current special exhibition.
Admission:
4,50 € including coffee and cake.
Shape of words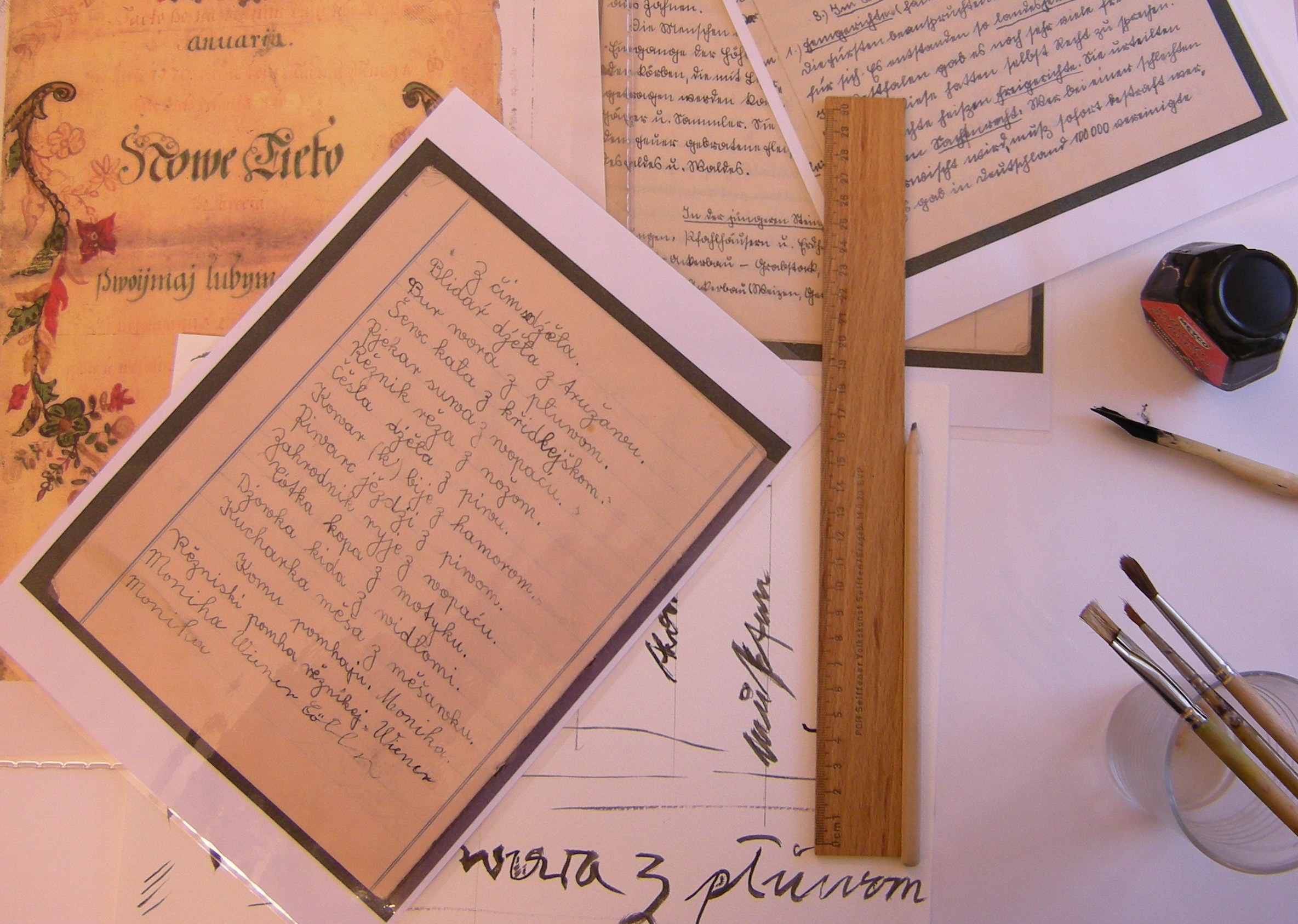 Using old printed works as well as handwritings as patterns, the participant gets to know former scripts.
In the next step, one can paint single words, sentences, textparts with a brush and ink. Thopugh, it is possible to realize own ideas.
By inscenating space und the way of "illustrating" the participant is meant to understand writings as a matter of language as well as soemthing figurative.
The major concern is to recognize the figure, the shape of words as a unit.
That way interest for old documents and handwritings shall be evoked.
Material fee: 1€ pP (Admission + 1 €)
Handicraft Programme
By using neutral styled masks as a basis , we create masks, that get painted, like for the carnival.
This masks can be used as a decorational object or as a disguise.
The programme takes 1 ½ hours.
Fee: 0,50 € + entrance fee.
Minimum 4 participants. We kindly ask you to make an appointement.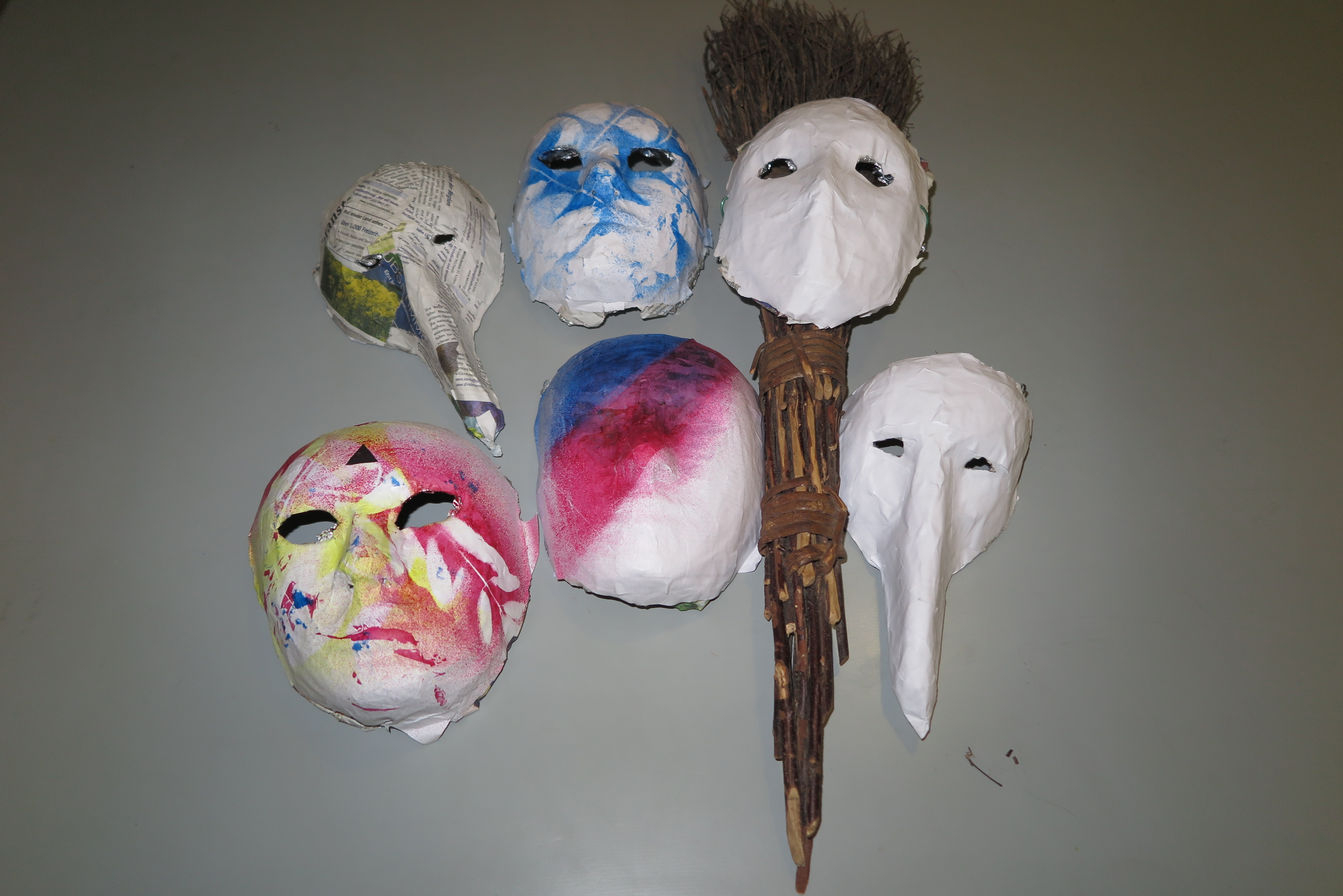 Appointments for summerholidays 2017
"Wer's glaubt wird selig"
Where can you find formulations from the Bible? Within the current reformational exhibition children get to know the language oft he Bible and desing an expression of their own choice. Meanwhile you can participate in the new cardboardgame.
duration: ca. 1,5 h                                 material fee: 1€
appointements: 29.06.2017, 14.07.2017, 27.07.2017, at the time 10 a.m
Eine abenteuerliche Stadtführung – an adventurous guided tour
Seeking traces in Bautzen – get to know the city anew! With a treasure map you have to find new ways, solve quests and answer questions.
Who can find the hidden treasure?
duration: ca. 1,5 h                                 at the time 10 a.m.
appointements: 06.07.2017, 25.07.2017, 02.08.2017

Eine besondere Märchenstunde – a special story time hour
We do not just want to listen to some sorbian/wendish fairytales and stories, but also arrange those and interact in them! All children are invited to bring a costume! Off we go to the land of stories and tales!
duration: ca. 1 h                                   
appointments: 27.06.2017, 12.07.2017, 19.07.2017
In sorbian language: 9.45 a.m.
In german language: 11 a.m.
Creative workshop
Whether you want to work with scissors, fold paper, write or stick something together. Everyone is invited to create something by his hands. Whether you realise an own idea or follow an instruction, at the end you can take your handicraft work home with you.
duration: ca. 1 – 1,5 h                           material fee: 1€
appointements: 04.07.2017, 21.07.2017, at the time 10 a.m.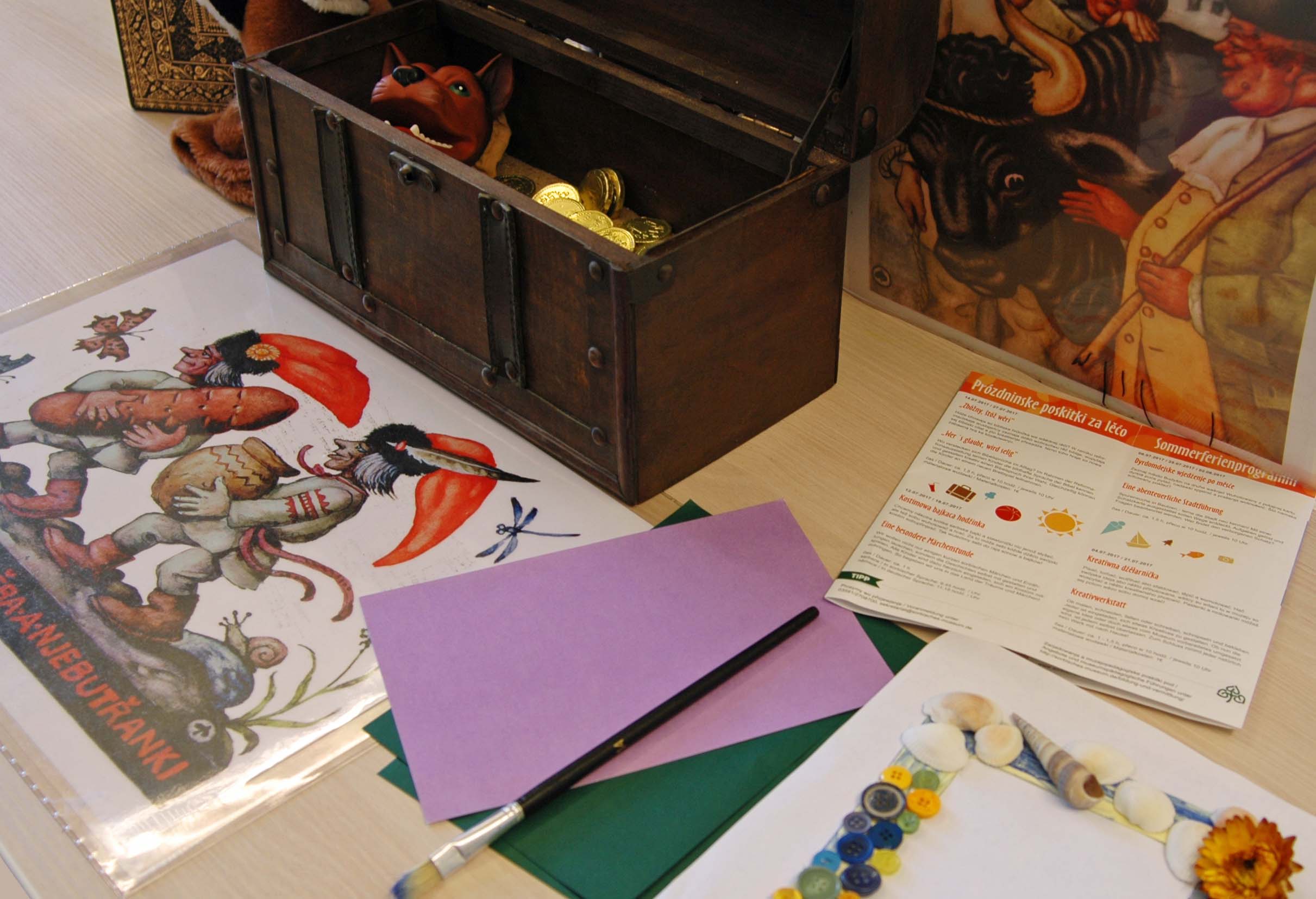 Old patterns on new clothing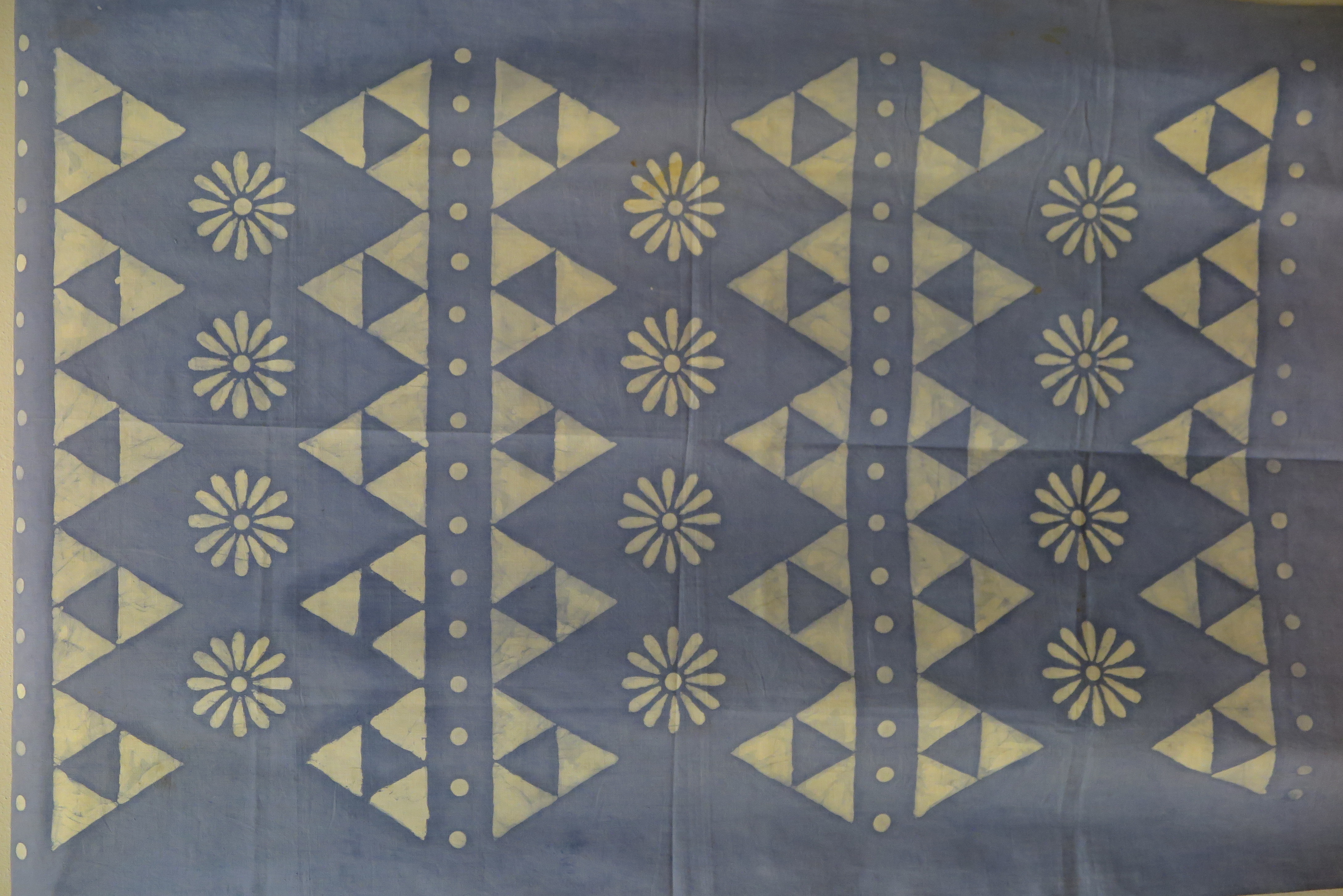 Taking the decorated easter eggs as an inspiration, this workshop is offered for the purpose of decorating cloth.
The first step is to draw up a pattern with the help of stencils or by your own design.
The second step ist, that by the help of some textil-colour-spray you transmit the pattern onto your cloth with the colour of your liking.
In case of participation, please bring your own piece of clothing to work on. A white cotton-shirt is an ideal matter.
The material cost is 2 € for each participant.
This workshop is open to everbody interested. (For young children an adult person to assist with the accurate handicraft works would be recommandable.)
Further appointements can be arranged, do not hesitate to contact us.
Participation can be granted only with an advance notice (including the fixed appointements). 
Please note:
For organizational reasons, please inform us if more than 10 children will be attending the event. This number is only for orientation, but basically the number of participants should be at least 8 children / students plus assistants / teachers. In principle, a programme will take 60 – 90 minutes. Individual arrangements can also be made. Children from the district of Bautzen enter free of admission. An extra charge can apply for certain materials that are used during the relevant event.
For information on the content or the organisation of the museum's educational programmes, please contact our assistant, Mr. Martin Brützke – phone +49 (0)3591-270870-17 or send an email to m.bruetzke@sorbisches-museum.de.