Small folk. Abundant culture.
Impressive history and lively present with colourful, abundant culture and wonderful customs – that's what Sorbs are known for. Get to know this folk with their plenty traditions – right here at Sorbisches Museum Bautzen. Fascinating exhibitions for the whole family will give you an understanding of trade and traditional costumes, music and religious faith as well as settlement history and contemporary art of the Sorbian folk.
"Witajce wutrobnje" – Welcome to the world of the Sorbs.
"Five centuries. The Sorbs and the reformation"
 march the 26th 2017 – august the 27nth 2017
This exhibition will be held within the context oft he sponsorship project "Faces of Reformation in Upper Lusatia, Bohemia and Silesia" and shows the influence, that the reformational movement hat among the autochthone slavic people in Germany – the Sorbs (lusatian Wends.)
The developement of the written culture as well as many other cultural achievements, can be attributed to the reformational movement. A catalogue produced by the Domowina publishing completes the exhibition throughout the centuries, that will be shown in the Sorbian museum on the Ortenburg-castle and partly in the Church of St. Michael nearby.
The centre of this exhibtion ist Luther's deman for God's word in a mans native language and its meaning until present. As the representative of the sorbian reformation the priest Wenzel Warich from Göda will be portrayed, who fort he first time translated the catechism of Luther into the upper sorbian language. Lusatia is known for ist various religious movements, in which the Sorbs had a special role. The Moravian church for example sent out its members on missionary actions worlwide.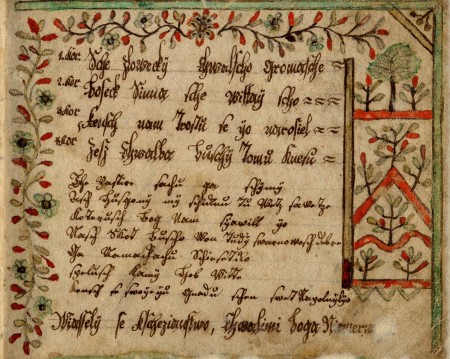 Pictures:
 Wendish-german songbook with carols from the Spremberg region, 17nth century.
© Serbski muzej
News
For this years Easter we have some programme offers for you! March the 18th, 19th, 25th, 26th as april the 1st., 2nd, 8th and 9nth folcloristic artists display the decorating of easter eggs in different techniques from 1.00 p.m. – 6.00 p.m. At the same appointements our visitors can learn/ practice to decorate easter eggs […]
From march the 26th the next temporary exhibition by the title "Five centuries. The reformation and the Sorbs" will be shown in the Sorbian Museum. Since last year museums and cultural institutions throughout Germany prepared for this years anniversary of publishing the 95 theses by Martin Luther. The reformational process in the tradition of the […]